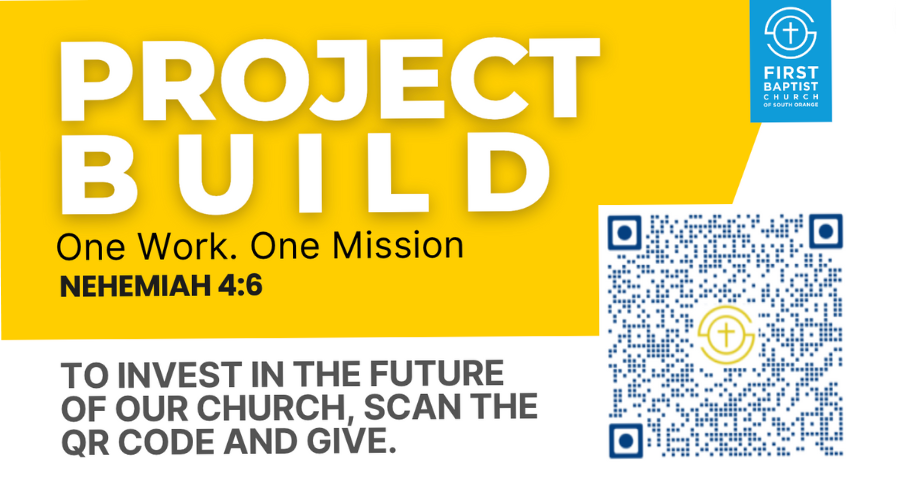 Thank you for being such a valuable member of our community and an ongoing supporter of First Baptist Church.
With congregants like you by our side, our church can continue its strategic plan of creating life-changing programming and administrative space for our growing congregation. God is at work in our ministry, and we are blessed to see so many lives changed by the Gospel. It is with joyful expectation, that we continue to look for opportunities to impact the world around us as we remain determined to "Point the Way to Jesus".
I am extremely proud of the steadfast trust of our members. With your commitment to our ministry, during COVID, we renovated our 125-year-old building, turning it into a state-of-the-art facility. Furthermore, we added some good ole' eye-catching curb-side appeal, making the building attractive and appealing. In addition, we made sound financial investments that have produced promising returns and launched the FBCSO Endowment. But that's just the beginning.
We wouldn't be able to make a significant impact without gifts to help cover the cost of operating our church, maintaining our facilities, and financing our plans to create a place where everyone is encountered by the love of God and feels compelled to follow Christ.
To answer the continued call, we recently launched a new initiative called "Project Build". This initiative is a freewill offering that will allow us to build a Youth Center to house our Enrichment Program and Executive Offices. The project will include a game room for our youth, a playground for children, and provide updated classrooms and facilities. In addition, this multiuse building will save the church rental cost of more than $144,000.00 over the course of the next four (4) years.
None of this can be done without your continued support. Will you make a generous financial donation towards our newly launched "Project Build Initiative?" When you plant a financial seed at First Baptist, you are planting in good soil.
We need to reach the considerable goal of $1,000,000.00. While this is a freewill offering, we are asking for those who can, to make a generous one-time offering of $5,000.00 or more. If you can't make a significant gift offering at this time, please consider making whatever contribution you can. First Baptist thrives through the generous contributions of members like you. Consider inviting family and friends to plant a financial seed as well.
With warm regards,
Rev., Dr. Terry L. Richardson
P.S. "Pointing the Way to Jesus" through Project Build!